News Brief From Nairobi, Kenya February 17, 2012 by By Boniface Ongeri and Adow Jubat: Standardmedia News contributors:
Mandera elders 'anoint' county officials Published on 17/02/2012
In a move likely to shake politics in Northern Eastern, Mandera's most populous community has named its nominees for top county positions.
Leaders of the Gurreh community say those who have been 'anointed' will not be subjected to any competition in the General Election.
<![if !vml]>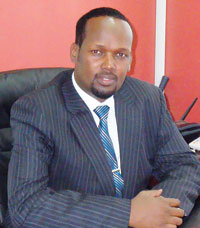 <![endif]>
Captain Ali Ibrahim Roba
In a traditional process that took more than two years, the community Council of Elders settled on Ali Ibrahim Roba for governor. In addition, elders say they have also identified nominees to run in three of the six local constituencies dominated by the Gurreh community.
They include Mohamed Maalim Mohamud (Takaba constituency), Mohamed Abdi Haji (Banisa) and Mohamed Adan Huka (Mandera South). Mohamud is currently the MP for Mandera West, which is set to be split. The 'anointed' team is now viewed within the county as the elect leaders waiting to take over office.
The elders say the decision was reached after consultations. "The process started more than two years ago and was concluded last December," said Maalim Alinur, the chairman of the 21-member Council of Elders representing the sub-clans of the Gurreh community.
"Potential candidates were asked to apply, they were interviewed and we zeroed in on those we have named," he said.
There were nine aspirants who applied to become governor. They were Abdikadir Adan Chitto, Mohamud Sheikh Adan and Ali.
Chitto is a former clerk to County Council of Mandera. Ali is the Director of Flight Operation for DAC Aviation East Africa Ltd.
The council enjoys support from politicians, professionals, women, youth, religious leaders and the business community. Alinur said the council had opted for someone with no political history.